I first saw this Transformer back in the Beast Machines era and now he's back! Hasbro has successfully captured the robot mode from the Beast Machines television series, than any other prior Beast Machines Tankor figure in my opinion. This Transformers Generations Deluxe Class Tankor Figure has a decent range of articulation, but paint operations are very clean and rich. The figure looks sturdy, despite the hollow upper torso which can be viewed from the side. The toy is very simple to transform from robot to tank and back. It measures approximately 5 1/2-inches tall and features gripping claws and a launching rocket and includes a comic book: No Exit: Dark Cybertron Chapter 6. Ages 5 and up.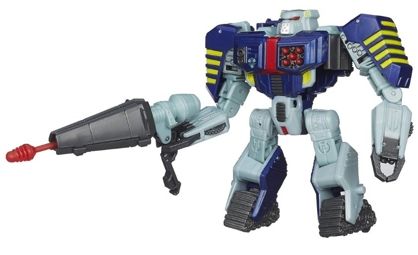 Tankor is a mountain of pure destructive force. Give him an objective and it's as good as done (and quite possibly crushed, smashed, or completely demolished). The Vehicon General doesn't have much for brainpower, but his skill in battle is nearly unrivaled.

Convert, arm and attack with all the Transformers action you can handle! This Vehicon Tankor figure is fierce in robot mode, and he can fire a missile at his Autobot foes. But when he needs to just rumble over the foe, he can convert to Cybetronian tank mode with a missile launcher! Whatever mode your Vehicon Tankor figure is in, his enemies will think twice before taking him on!